Improving patient outcomes just got easier
Better data leads to better care. If your patients go to a specialty provider or clinic to get care for a condition, Particle now offers additional search logic to include those facilities in the same query.
Specialty Search is a condition-oriented feature that enhances our already best-in-class Record Locator Service (RLS).
Enhance the patient experience
Scale your health tech solution with simple and secure access to healthcare data from across the US.
Focus on prevention, not reaction
With the full patient story, providers can proactively treat patients before illnesses arise.
Optimize your team's clinical efficiency
By removing the guesswork, clinician workflows become more efficient so they can dedicate more time to patient interactions.
Health conditions
Select a condition
Cardiology
Endocrinology
Gastroenterology
Nephrology
Oncology
Orthopedics
Pulmonology
300 million+ FHIR-enabled records
Patient records accessible in FHIR and C-CDA formats, straight from our API.
90%+ EMR coverage
Including Cerner, Greenway Health, Epic, athenahealth, GE Healthcare & more.
160K+ connections
Our API has connections to 160K+ health systems, practices, and clinics in the US.
~90%+ Query Success Rate
We deliver the highest QSR in the industry with 135 records found for every successful query.
How does it work?
No API on the market (including ours!) can search every hospital in the country for every patient, so searches are targeted to the patient's local geography.

Specialty Search is the latest addition to Particle's integrated data network. It enables condition-specific record queries from the top centers of excellence in the United States. Specialty Search ensures providers receive as many clinical records from as many sites as quickly as possible, so patients and physicians have actionable information when they need it the most.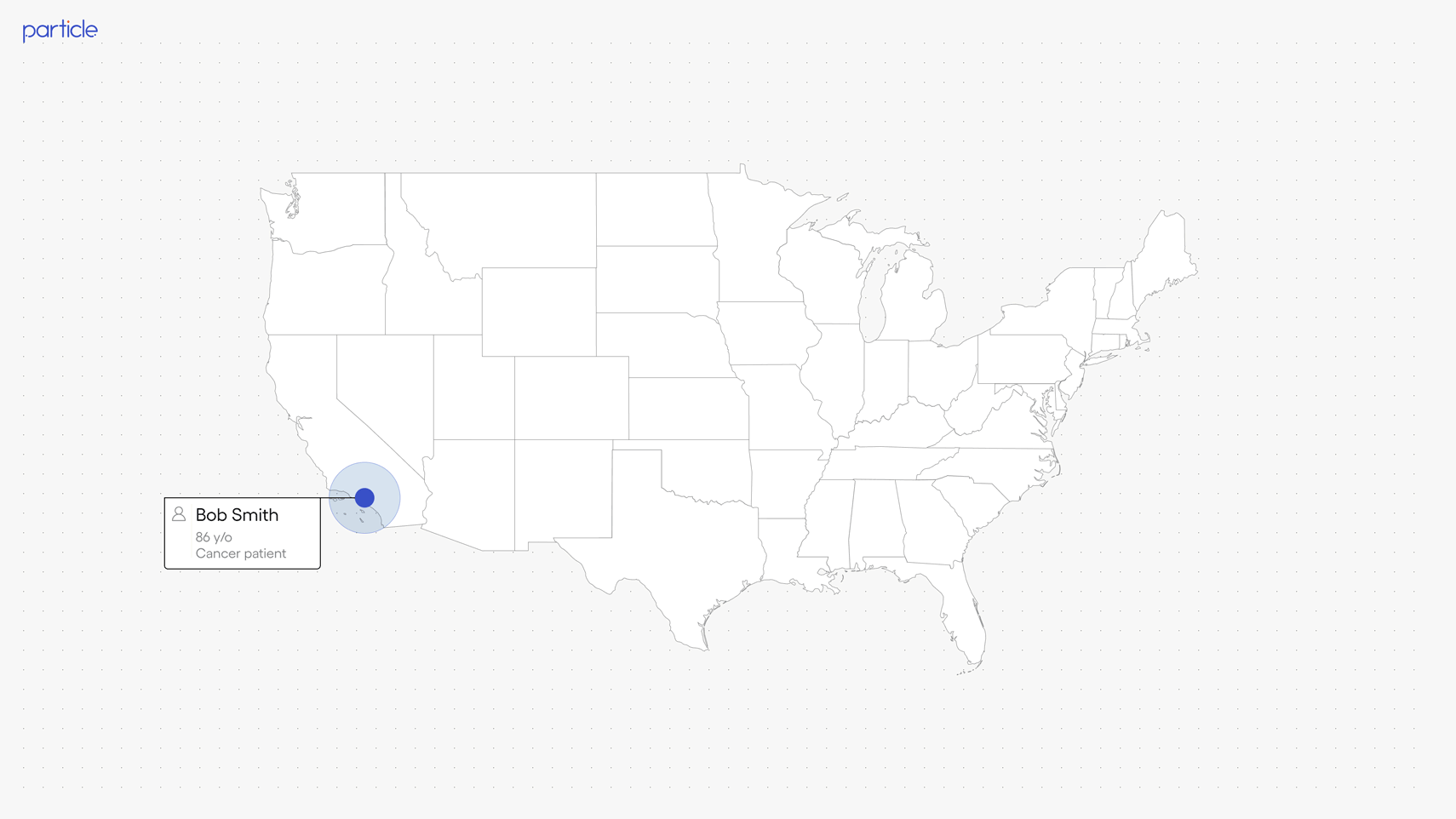 Trusted by organizations across the care continuum
"The Specialty Search feature is the latest addition that helps to ensure we receive as many clinical records from as many sites and as quickly as possible. We're now able to deliver insights and services to patients and physicians when they need them most, and to have that core expertise be where more and more of our time and energy is spent."
Zach Kaufman, xCures
"We're looking to enable better care for our patients by gathering their external health data before their first visit with us. Particle Health's API is a promising solution for us and we look forward to continue building more innovative solutions together."
A.P, One Medical
"Access to clinical documents and discharge summaries provide context enabling our pharmacists to make clearer, more meaningful recommendations to patients and their providers. Working with Particle Health allows us to explore new ways to leverage data for the benefit of patients and we always feel heard by the customer success team."
Matt Benedon, Cureatr
Our latest customer story
xCures is a company that helps identify and rank the most promising treatment options for people with cancer who have exhausted the standard of care. Utilizing Specialty Search, Particle Health's expanded Record Location Service feature, xCures was able to collect comprehensive records and the required information for patients in need of treatment options.
Ready to chat?
Let's discuss how we can enable you to treat complex conditions with the right data at the right time.